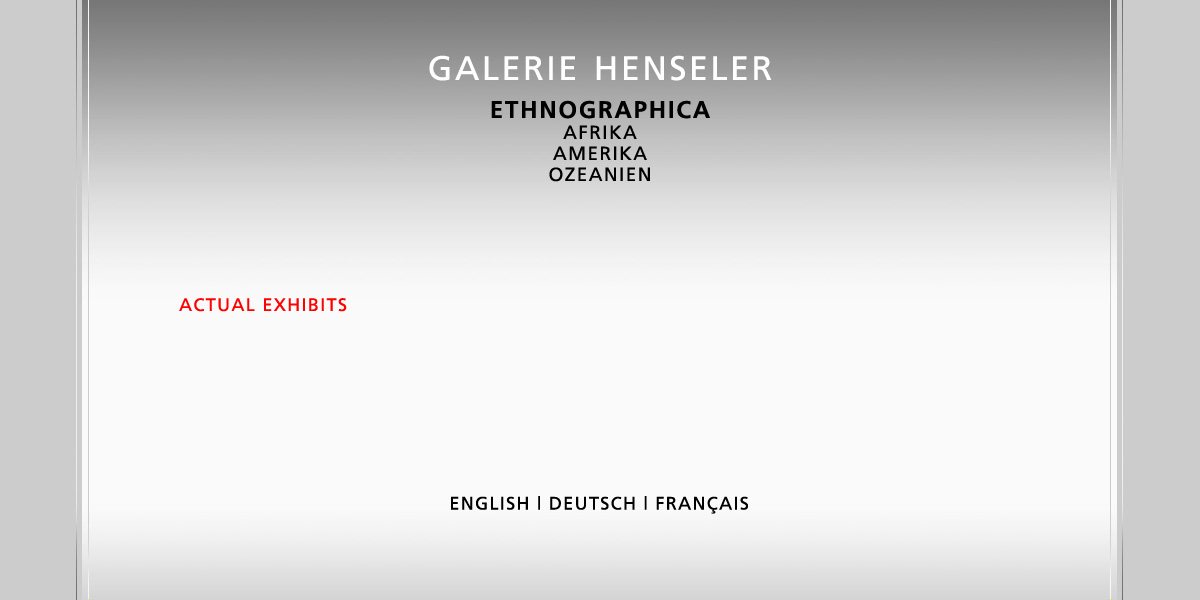 Galerie Henseler München
Ethnographica
Afrika, Amerika, Ozeanien - Africa, America, Ozeania
Nichteuropäische Kunst, Non European Art
aussereuropäische Kunst

Start, Welcome, Accueil
Munich Bayern Bavaria Deutschland Germany Allemagne
deutsch, english, français
Tribal Art, african art sculpture, traditionelle afrikanische Kunst Skulptur, Stammeskunst, ethnography, ethnographic,
Kauf, Verkauf, Geschäft, Shop


Internationale Startseite der Galerie Henseler,Ethnographica,Afrika,Afrikanische Kunst,Polynesische Kunst,Micronesische Kunst,US-,Indianer,Amazonas
Südseekunst, Ozeanische Kunst, Indonesische Kunst, Melanesische Kunst, Präkolumbische Kunst

Africa,African Art,Polynesian Art,Micronesian Art,Indians, Amazon Art, Art of the South Pacific, Art of Ozeania,Indonesian Art, Melanesian Art,Praecolumbian Art,
Art de Afrique,Art Polynesien,Art Micronesien,Art Melanesien,Art Indonesien,Arts des Indiens de l'Amazone,Art Océanien,Arts des Meers du Sud,Art Precolombien,Art Europeen Contemporain Selectioné
Afrika, Amerika, Ozeanien, Ethnographica, afrikanische Kunst und ausgewählte europäische Gegenwartskunst - international
Einen besonderen Wert ethnographischer Kunst sieht die Galerie Henseler in deren Authentizität und der zentralen Stellung die diesem Begriff zukommt.
Galerie Henseler opines that another distinct value of ethnographic art is its authenticity and the crucial importance of authenticity.
Pour la Galerie Henseler, une autre valeur particulière de art ethnographique réside dans son authenticité et dans la place centrale accordée à cette notion.
START
|
LOCATION
|
WERTE / MEINUNGEN
|
AUSSTELLUNGEN
|
GALERIEANSICHTEN
|
KONTAKT
München MÄRZ 2022, Munich MARCH 2022, Munich MARS 2022